THE GALLEY
The Media Club of Ottawa
"Penning the Future"

Summer 2010
---
The next meeting of the Media Club of Ottawa
will be held on October 18, 2010
Guest Speaker
:
Kita Szpak,
writer, publicist,
communications strategist
and children's author
Where

:
Library and Archives
Time

: 6:00 p.m.
Cost:
$20 non-members,
$15 members
RSVP: 613 521-4855
***



Tony Martens at the Media Club
Spetember 20, 2010


At the first meeting of the 2010-2011 season, the Media Club invited Tony Martins. creative edito of
Guerilla
to be the guest speaker. The suggestion had come from Susan Hallett, former member of the Club.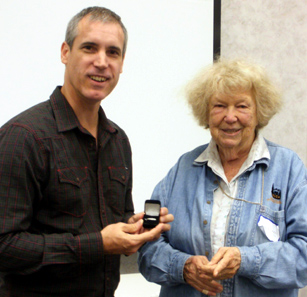 Tony Martins and Rosaleen Dickson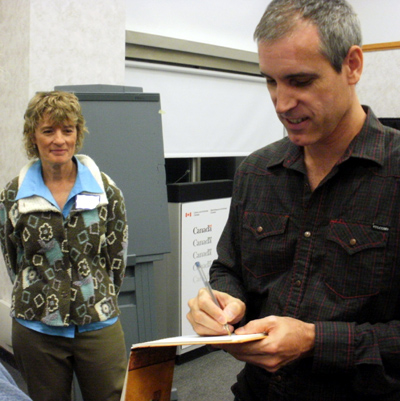 Jayne Simms-Dalmotas and Tony Martins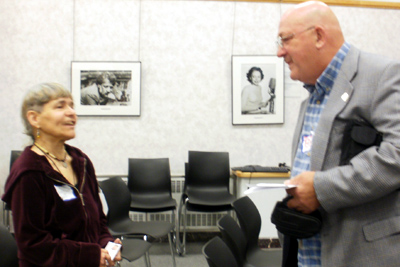 Nancy-Ann Patten and Patrick Neikle

Photos by Iris ten Holder
Diana Beresford-Kroeger
Award winning author Diana Berseford-Kroeger, who was raised in Ireland, calls herself a Renegade Scientist. She is the author of at least five non-fiction books, two novels, three mysteries, and over 200 short pieces, some of which have been aired on radio and have been performed live for the public.


photo © by Christian H. Kroeger


She has frequently contributed to, written for, and hosted programs for radio and television in Canada, Europe, Israel and the USA. The television documentary series "Recreating Eden" first aired "The Renegade Scientist" about her life and her research garden in 2008. This has now been distributed worldwide. In 2005, the CBC's flagship program, "Ideas," aired "The Ideas of Diana Beresford-Kroeger."
She has also appeared on the National Public Radio (NPR) program "Living Earth," and other programs in the USA and Canada. In addition, Diana

has regularly published articles in an array of popular journals, magazines and newspapers in North America and Europe.
Diana has studied classical botany, medical biochemistry, organic and raidionuclear chemistry, and experimental surgery in Ireland, the USA and Canada. Her scientific publications appear in such journals such as The American Heart Journal, The Canadian 'Heart Journal, and

The Journal of Microscopy.
Diana has lectured at the University College Cork (Ireland) and at Carleton University, received a fellowship at the University of Connecticut, and worked as a research scientist at the Canadian Department of Agriculture and the Ottawa School of Medicine, as well as the aforementioned institutions. In 2010 she was elected a Wings Fellow by Wings World Quest for her scientific research and discovery.

She writes and conducts research in her extensive private gardens at Merrickville and will be guest speaker at the Media Club monthly meeting on November 22..
Diana Berseford-Kroeger's books include:
2003 - Arboretum America: A Philosophy of the Forest, which won the American National Arbour Day Foundation Media Award in 2005 for exemplary educational work on trees and forests
2004 - A Garden for Life, originally published in 1999 as Bioplanning a North Temperate Garden
2004 - Time Will Tell, a collection of short stories
2010 - The Global Forest - a collection of

40 essays
2010 - Arboretum Borealis - A Lifeline of the Planet -

the sister book to Arboretum America, about the great northern forests and their importance to the global eco system.
Her novels are Nellie, and The Terrace
COPYRIGHT ISSUES
Translators and Writers join forces

Literary Translators Association of Canada Joins Writers Coalition on Copyright

The Professional Writers of Canada (PWAC), Bulletin number 7.3 announced on Friday, 9th July, 2010:


The Literary Translators Association of Canada (LTAC) has joined with PWAC, The Writers Union of Canada (TWUC), the Playwrights Guild of Canada (PGC) and the League of Canadian Poets (LCP) in our coalition around the need for changes to enshrine the right for compensation for use within the proposed legislation to amend Canadian copyright law. Through the summer and fall we will be working to develop a toolkit to share with our collective memberships and other writers' organizations to communicate with decision-makers on appropriate changes to the draft bill."

>> page 2