Gordon Stobbe Fiddling in Nunavut

By Adam Feibel

With more than 25 years of teaching young people how to play the fiddle, Nova Scotian Gordon Stobbe has extended his teaching to the Canadian North by working with First Nations and Inuit children in Nunavut.

His latest trip – a nearly three-week venture from April 16 to May 4 – took him back again to where he first started, in Pond Inlet.
Stobbe began his teaching by holding workshops and eventually started a fiddle camp at Emma Lake, near Prince Albert National Park in Saskatchewan. All the while, he published his own instructional and repertoire books for the fiddle (he published his eighteenth book this year).

"It's odd ... when you start to publish things, all of a sudden you become the expert," he says.
This expertise was sought after by fiddling camps all over Western Canada, and he was then invited to perform at the Lunenburg Folk Harbour Festival in Nova Scotia – "one of the finest little folk festivals you'd ever find" – but also to host a workshop specifically geared toward kids. Stobbe and his partner on guitar, Greg Simm, put together a two-hour presentation that assigned a different role to each kid.

This caught the attention of Julie Lohnes, chairperson of the Tusarnaarniq Sivumut Association – Music for the Future, and the pair was asked to fly out and teach in Pond Inlet.
"She realized that we would maybe have the skills to take a bunch of kids in a different kind of culture, and quickly get something happening," he explains. Lohnes raised money and bought fiddles – something most of the kids had never even seen before.

But only five days after beginning the fiddle lessons, he and Simm took the kids out by dogsled and skidoo to Eclipse Sound, the ocean passageway where icebergs from Greenland float through and freeze between Pond Inlet and Bylot Island. There, the group performed their first concert atop an iceberg.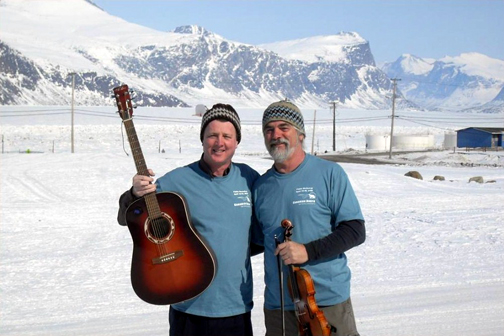 Photo Credit:


Stobbe has used this quick method of entry for all his teaching – to get in there and have success and to make something happen.

"You come into town one day, and five days later you do six community concerts. Those concerts are not going to be stellar concerts, but something's going to happen that five days ago no one would have dreamt was possible. And that's my pedagogy," he says.
From there, word got around the tundra. Music teachers in Iqaluit, Pangnirtung and Igloolik asked Stobbe and Simm to stop in and help teach in their own communities.

Stobbe made annual trips for the first couple years before upping them to twice a year, beginning three years ago. He says because his visits are brief and infrequent, it's important to take advantage of the time; it's about pushing hard, spending lots of time with the instrument, having high expectations of the kids and having them work hard to meet those expectations.

"I'm pretty confident about how to have pretty much instant success," he says. "But in this case it was a question also of not knowing the culture, not knowing how people worked, not knowing really anything about the Inuit attitude toward education."

In Nunavut, school attendance often becomes scarce; communities will see almost 24 hours of sunlight per day of sunlight at the beginning and end of each school year, and if the sun is up, kids don't go to bed.

Additionally, many youth are involved in substance abuse, whether through their own use or a family member's. The problem has attracted the attention of the federal government. Last year, Nunavut's Health Minister Leona Aglukkaq announced funding support of $1.6 million over three years from the Government of Canada for two projects that would help prevent young people in Nunavut communities from taking illicit drugs and treat those already using drugs

With very little adequate treatment available, Nunavummiut are more susceptible to ongoing addictions; the Nunavut Department of Health and Social Services has recognized the high volume of substance abuse in the territory, and one of its two anti-drug projects will educate its youth about the negative health and social effects of drug use, while also promoting healthy lifestyle choices through activities and workshops such as hip hop dancing and also, for example, fiddling..



---------------------------

These issues have presented problems for some of the kids in Stobbe's classes, but other than that it's much like any other group of children.
He says in any group, about 10 out of 20 kids will instinctively have somewhat of a feel for music and hand-eye coordination. The other half has more trouble, and some may get easily frustrated and want to quit. And out of the 10 who learn more easily, maybe four are really talented and excited about the music. "It's like maple syrup," he explains. "You start with 40 gallons of sap and you end up with a gallon of syrup."
In most of the communities Stobbe's been to, the best of the kids are far better players than the best of the adults. What this means is that the kids could soon become the teachers as they age and excel. Music has taken a very firm root in some of his students, but Stobbe says they haven't quite gotten to the point of acknowledging it as a potential career.
"That's the fondest dream I guess," he says. "I think we're on the verge of that happening in a couple communities." He mentions two young women in Pangnirtung who have grown into very fine fiddle players and could very well be at a stage where they could begin teaching younger children.

----

Ottawa journalist Adam Feibel's story was funded by the Media Club of Ottawa through the Gojournalism project.


GoJournalism is an open source project to pioneer "community powered reporting.
The non-profit project is funded, owned and operated by the Algonquin College Journalism program in Ottawa, Ontario, Canada, and administered by the college's applied research department.

GoJournalism partners with news organizations to distribute content under appropriate licenses.


Page 4