This profile written by a student of the University of Ottawa is about a current club member.
Barbara Florio Graham
By Richard Kamen,
University of Ottawa student
Barbara Florio Graham, "Bobbi", joined the National Press Club in 1975 and joined the Ottawa branch of the Media Club next. Although Ms. Graham fully supports the goals of the Media Club she is unable to attend most events.
During the club's 100th anniversary conference she did have a role in the play re-enacting the creation of the Canadian Women's Press Club. She thought the play was fun and entertaining and also appreciated meeting so many other female journalists while at the 100th anniversary celebration.
Ms Graham grew up in Hamden, Connecticut which is very close to Yale University. She has been writing since she was a young girl. She was first published at the age of nine in a children's magazine which gave her a free subscription and five dollars for her submission.
Upon finishing high school Ms. Graham earned a B.A degree from Columbia University where she majored in English, specializing in writing and theatre, and minoring in music.
She has written in many genres. When she was young she focused on short stories and then moved on to public relation firms and newspapers as she got older.
Today Ms. Graham lives in Gatineau, Quebec, where she regularly writes columns for several publications such as The West Quebec Post, Log Cabin Chronicles, Scribe and Freelance Writer's Report. She is also an active member of writing organizations such as the Canadian Association of Journalists and the Cat Writers Association. Ms. Graham is the author of three books: Five Fast Steps to Better Writing, Five fast Steps to Low Cost Publicity, and Mewsings/Musings which was co-authored with her cat, Simon Teakettle.
In her free time Ms. Graham mentors writers, is a book publishing consultant and gives workshops in book promotion, recycling your writing and humor writing. She also maintains a website - simonteakettle.com - which specializes in "Offering expert online training, mentoring, books, and special projects."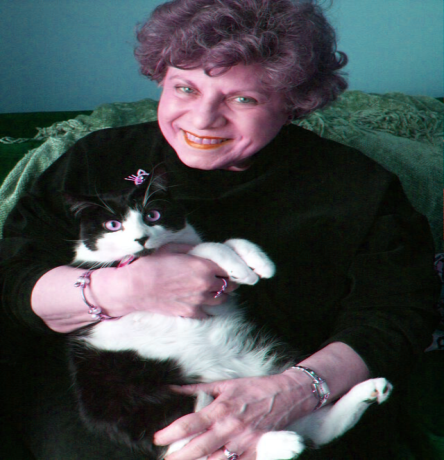 Bobbi with Terzo - Simon Teakettle 111
Since this profile was written Bobbi has served as Managing Editor of a project that led to the publication of
Prose to Go, Tales from a Private List
, an anthology of 34 first-person pieces from 18 Canadian writers, published early in 2011 by Bridgeross. Bobbi co-designed the cover and handled negotiations with the publisher so that contributors paid nothing to have the book published. -Editor