Margaret Graham Award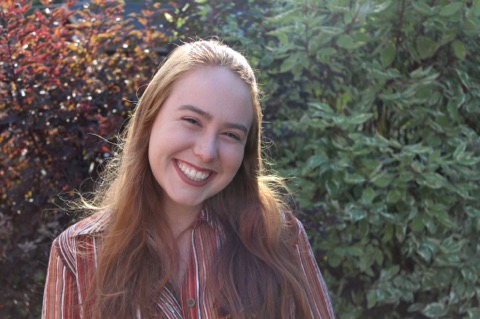 Julie Tierney
Carrleton University
Margaret Graham Award
presented in April 2020
Julie Tierney is a multimedia journalist finishing her degree at Carleton University. She's a proud Prince Edward Islander, and enjoys telling stories about the people, places and issues she finds fascinating. Whether it be in print, audio or video she hopes to cultivate empathy and understanding of the diverse experiences of humankind with her work.

Mike Athey
Algonquin College
Margaret Graham Award
presented in April 2020
\
My name is Mike Athey and I am finishing my second year as a journalism student at Algonquin College.
I was born in Ottawa and I spent much of my childhood in New Brunswick where I picked up a permanent eastern accent. I got my first taste of journalism at Algonquin College's television broadcasting program, from British legendary newsman, Gordon Grant. He was a man from a lost era, and I thought of him as a living version of Jonah Jameson...without the cigar. He growled out instructions on what it was to be a true journalist, what it meant to write well and stressed what never to do.

Then life happened and journalism was put to the side. Time flew by. I spent four years in Fort Simpson and Yellowknife, Northwest Territories, teaching elementary and junior high students to some of the best kids I've ever met. But with the voice of Grant still in my head, barking at me to get into the game, I returned to Algonquin to firm up my skills.

I'm now starting an internship at Global National and it will be interesting to see where life takes me.

Margaret Graham Award Background

The Margaret Graham award honours the memory of Margaret "Miggsy" Graham, a young Ottawa reporter who, in 1904, played a leading role in the formation of the Canadian Women's Press Club (CWPC), now the Media Club of Canada. Miggsy watched as newspaper men but not women, got free trips to cover the World Exposition in St. Louis for their newspapers. While working briefly in Montreal for the Montreal Star, she persuaded Col. George Ham, then publicist for the Canadian Pacific Railway, to provide women reporters with the same free passes CPR gave the men. It was the first time women and men journalists received free press passes from the Canadian Pacific Railway. The trip was such a success that on the way home the women formed the CWPC

Melba Lent Woelfle Award





Katelin Belliveau

Algonquin College

Melba Lent Woelfle Award

presented April 24, 2020

at a virtual meeting

Shediac, New Brunswick has long been a town that breeds blue collar people. My mother was a hairdresser and her father ran the town's brick-making business. My friends' parents were roofers, mechanics and contractors. It's a town that celebrates the simple things in life like drinking your cup of coffee on the wharf on your break or finding the perfect spot to fish in the river.

I grew up learning the Maritimes' seaside, easy-going mindset and eventually embodied it through my French-Acadian roots. One thing I found myself being set apart for was my desire to write. I never met or even heard of anyone in Shediac that made a career out of it. The fact that essay periods were my favorite time of year in grade school was greeted with a cocked brow. But writing made me feel at home in a new way..
-------------------------------------------------






------------------------------------------------

It made me feel at home even when I was 12 hours away. After high school, I went to the University of Ottawa, this place I'd seen in shiny pictures online. I had applied to its joint bachelor's program with Algonquin College. Two years of theory and two years of hands-on application, it would be amazing. And it has been. I excelled in theory-based classes, writing mostly about journalism ethics and the state of reporting in countries around the world. But I started to feel far from home. That sort of writing was not what had once made me feel invincible

At Algonquin, I found that feeling again. I was surrounded by the same desire and drive that had made me leave my small town. I felt the potential stirring in me, but I had to find a way to push myself further in this new setting to make it a reality.

The application for the Algonquin Times' positions came out and the editor's position was my first chance to prove myself – to myself. Two terms later - a few days ago - I was asked to help on-board the upcoming Times staff as the former editor. It doesn't feel as though the first year is already over. But it does feel as though my path is only beginning. Algonquin has introduced me to new fires I didn't know could be ignited.

Heading into my fourth and final year, I know what I want to do, and who I am. I am a maritimer, one that will always head back home once in a while to smell the ocean. But I am also more than what a small town says you ought to be.


In September, my boyfriend Sebastien, a University of Ottawa engineering student, and I will make the same 12-hour trip that started my journey. Only this time, when we come back to visit, I'll be writing about why that worker sits at that spot on the wharf for his break, or how that fishermen finds the perfect spot in the river. I want to tell the stories that people overlook. Because I am one of those stories. One that is still being written.-
Melba Lent Woeflé Award presented
at Algonquin Zoom Meeting


By June Coxon

Algonquin College, like other schools and places where groups of people normally gather, was closed in March because of COVID-19. Students who had been on field placement (which started March 2 for most of them) had not been to the college since February 21. Altough second-level students were last on campus March 13, classes were suspended for them the following week while the faculty prepared to move things online. Classes resumed remotely on March 16



For the first time since it was introduced in 2008 a representative of he Media Club was not able to present the Melba Lent Woelflé award to the winning student at Algonquin College.. Self-distancing required by the current world pandemic made that impossible


-------------------------------------------------


Instead, the journalism class included the presentaion in a virtual reunion/last class Zoom meeting on April 16.

Journalism professor Julie McCann explained in an e-mail:

"The fact that this year was a challenge for our field placement students because of COVID-19 didn't change anything, We still gathered, they still shared stories, we all still laughed and celebrated together. It just happened to have been conducted in a Zoom meeting instead of in our classroom in N205. For the past couple of years, this has also been when we've handed out our program awards. We did the same thing this year'"



Iris ten Holder represented the Media Club at the Zoom meeting. Her being new to Zoom delayed her access to the meeing and Julie McCann presented our club's award on her behalf to.Katelin Belliveau, a second year student who had returned home, like most other studens, and had logged in from New Brunswick. Toward the end of the meeting Iris saw an opporunity to speak to Julie McCann and to congratulate Katelin. with her achievement.

Two other awards were presented during that meet-up. Professor Peter Simpson presented the Mark Anderson Journalism Excellence Award and Professor Mitchell Beer presented the Doug Nixon Environmental Journalism Award.-