Media Club of Ottawa




Executive

2019-20




President, June Coxon




Secretary-Treasurer.Iris ten Holder


Email:
Programs
Publicity
(Right click to copy email address)
Board of Directors: June Coxon, Iris ten Holder, Helen Bednarek Van Eyk



Join the Media Club

of Ottawa




**




.

Quick Links

.

Part 1: A Beginning



Lois 6th birthday

I asked for a pen & pencil set and a watch.

I was asked by June Coxon to write about jobs and decided to make a list of the different jobs I've had. I was surprised to discover that my list was long: 86 jobs. Of course, the first jobs were the kinds that any kid might have: mowing the lawn with some friends, pulling out weeds, and babysitting. I also taught a young girl how to play the accordion. One summer, I worked for my father steaming clothes or filling shelfs with food in his stores. He once had the bright idea that I could work in one of his dress shops. Disaster. I had no idea what I was doing. I was a tomboy and wore the same types of clothes all my life… button down shirts & simple pants with no fancy designs. My father named one of his fashion designs after my younger sisters: "June/Carol." He didn't name any clothes after me.

Photo:
Dude Ranch: Estes Park, Colorado

Lois far left with sisters and friends.
I wanted to be a cowboy

You never know what jobs you might fall into. In junior high school, I only did well if I liked the teacher. I went from straight A's in math with one teacher to failure with one who I now realize was abusive. I was too young to complain to the school counselor who asked me why I was failing. She suggested that I move to another class. That worked. My grades recovered. As a teenager in high school, I had to take a geometry class. That didn't work either. The school counselor who knew me, suggested that I write for the school newspaper instead. I was into sports. I became the first woman sports editor of my high school newspaper, and I took photos for the paper with a polaroid camera.

Other jobs I had: Camp counselor – I got into trouble for declaring a "Scarecrow Day." All the kids in my 6th grade group dressed as scarecrows and ran around the camp scaring the other children.

As a student at Ohio University, Athens, Ohio (Appalachia country), I had a paid job working for the Ohio University Post, the daily rag. I started as a reporter, then became a copy editor and finally a feature writer at the request of Joe Eszterhas, the editor of the paper. Joe Eszterhas became a senior editor for Rolling Stone. In 1992
Featured speaker

Lois Siegel


Lois Siegel was scheduled to speak at the Media Club meeting in March 2020
about:

Thinking Creatively When your Job Disappears.

Lois Siegel has been an award winning filmmaker, casting director, writer, photographer and muscian. She currently works as a freelance photographer and a music agent and performs with the Lyon Street Celtic Band and the French band Sens Unique. She lives in Ottawa.

In the past Siegel's varied career included working as a freelance photographer for the Ottawa Citizen, the Ottawa Business Journal; Diplomat magazine; Capital Style magazine and Metroland Media and covering embassies/diplomats, art shows and parties for "Diplomatica." She taught video production at the University of Ottawa for 18 years and was a film casting director in Montreal for 10 years. Siegel also shot food photos for the textbook Le Cordon Bleu Culinary Foundations, for Le Cordon Bleu Culinary Institute. In 2005 she was one of nine photographers chosen to shoot the Rolling Stones concert in Ottawa. Since 2006 she has also been writing film reviews for the Glebe Report.
***
Beyond the Box – Thinking Creatively When Your Job Disappears
Part 2
A good friend of mine who worked at the French Summer School, Claude Paradis, had an arts workshop in Old Montreal on St. Paul Street that he shared with another artist. He allowed me to live there until I could figure out what to do. Claude lived in the Plateau with his family.
In the workshop building, there was an old-style freight elevator that sometimes got stuck between floors, but I soon figured out how to crawl out. There was a drunken janitor who had to be avoided, and there was a bed made of a plank of wood. That was fine. You can get used to anything. Best of all, there was a hot plate. I found just enough money to buy a box of pancake mix. That's all I ate for weeks. I can't even look at pancakes now…. From up high, I could watch the crowded festivities on the street heading towards Place Jacques-Cartier.
Claude Paradis was scheduled to have an arts show at a gallery across from the Bonsecours Market. He said I could also do an exhibition with him. I remember the area we created where you had to step inside to see some abstract images. I still had some photos from the time I was at the French Summer School.
Eventually, Claude's wife found me a job where she worked: Teaching English to Federal Government workers. This is an Apple, That is an Apple…. I could walk from Old Montreal to Saint-Catherine Street W., near Phillips Square in town. I remember receiving my first pay check and being able to eat in the restaurant in the building before my class. 😊
I also remember that the first time it snowed, my students rushed me over to the window and laughed tauntingly, telling me what I was in for when a blizzard would hit the city. I was from the States. I hadn't been in Montreal for a winter yet. I had no idea…. in those days, the blizzards were treacherous and often no one could move. People would ski down the streets into town.
I could now rent a small 41/2 apartment on St. Urbain & Joseph. My friends from the art workshop helped me move late one night, after one of them finished working as a taxi driver. I had landed. All I wanted was a piano and a desk. I found a little store that sold used pianos in the neighborhood. I was able to pay by installments for an old, upright piano. I was delighted.
My next job was working as a substitute teacher in the Montreal high schools for the Protestant School Board. I applied and was accepted. I didn't have a car, so I had to take a bus to the schools. I would be woken up by a call stupidly early in the morning and be told I should go immediately to a school somewhere in Montreal. I was given directions, I'd get dressed and fly out the door to take a bus to the school. Because I looked the same age as the students, I could pay ten cents for the bus. That was what school-age kids paid those days. I would somehow find the school and be told to go to a specific classroom.
If you know anything about kids and substitute teachers, think back to your school days. It was free-for-all-day for the kids. About the best
I could do was to keep them from jumping out the windows; and of course, one kid did! So I had to figure out how to deal with them. It should be noted that when you were assigned to teach a class, it was often not in the area of what your specialty was. I was an English Teacher. They would give me anything you can think of…. I was once given an art class. I handed out lots of drawing paper and other materials. This worked fine, except I got into trouble having used up about an entire semester's supply. I was learning the hard way.
My favorite school was Byron Bing, a city centre school with kids representing a multitude of nationalities. One of my friends who was a substitute teacher there was so freaked out because she couldn't handle the class, she ran out screaming and never went back. I loved these kids and spent lots of time talking to them about their lives. Lunch time was amazing. They were all secluded in a basement room. They brought all kinds of ethnic foods from home - things I hadn't seen before and strange shaped rolls.
Then I heard that a CEGEP had opened in Saint-Anne-de-Bellevue, Quebec. A CEGEP is a publicly funded post-secondary education system – pre-university, collegiate technical college, exclusive to the province of Quebec. A Diploma of College Studies (DEC) is required for university admission in Quebec. Pre-university programs re typically two years in duration, filling the gap between secondary school and undergraduate degrees.
I decided to apply!
To be Continued….

.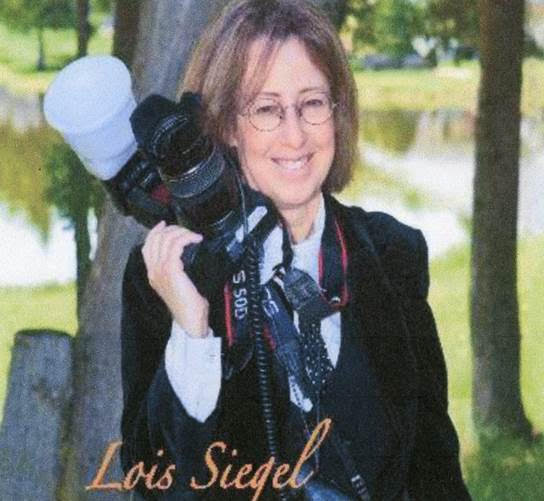 Writer, Award-Winning Filmmaker, Casting Director, Photographer and Musician

Siegel's many awards include:

1990
- Siegel's film "Stunt People" won a Genie Award for the Best Short Documentary.
1996
- the film, "Baseball Girls" (produced by the National Film Board and directed by Lois Siegel), was selected as one of the Best Documentaries in Canadian Cinema by Take One film magazine's Toronto Film Critics Poll.
1998
- Baseball Girls won the National Educational Media Network Award - the Bronze Apple.
2002
- Ottawa Life magazine named Siegel one of the Capital City's Top 50 People who are shaping the future of the National Capital.
OXYGEN, the then new women's tv network in the United States, purchased Baseball Girls and it aired on the network 2000-2002.
You can read more about Lois Siegel and her career at
siegelproductions
and at
siegelentertainment
***
Part 3
Job: John Abbott College



I was accepted for an interview at John Abbott College in Saint-Anne-de-Bellevue, Quebec. St. Anne's is a suburb located at the western tip of the Island of Montreal in southwestern Quebec. It is the second oldest community in Montreal's West Island, having been founded as a parish in 1703. It's a 55 minute bus ride from Montreal. I didn't have a car, and I had never been there. I had to figure out how to get there.

I took a bus to a metro to a bus. The 2nd bus headed to St. Anne's. I wasn't sure I was doing the right thing. The bus was taking a long time to get there. I started to think I should get off the bus and go home, but, luckily, I stayed on the bus. Eventually, it arrived on the Lakeshore adjacent to the college. I found the English Department where I was to be interviewed. At the time, there were 1200 students at the school. Now, there are 4,000.
Photo
John Abbot College

I met several teachers, the interview went well, and I was hired… starting as a part-time English teacher.

Because I was part-time, my classes would be early morning.

photo: Lois

Luckily, I met another professor, Matthew Von Baeyer who lived near me and offered to give me a ride to school, but I often had to find my own way to get home. Being young and stupid, I used to hitch hike. I saved a lot of money, but I had some very weird rides – use your imagination. Sometimes I would be let off in the outskirts of Montreal and have to figure out how to get home. The scariest was a guy who turned around and started going in the opposite direction, away from Montreal.

At John Abbott I taught all kinds of courses under the guise of The English Department: The Short Story, Modern Cinema, Documentary Film, Film Animation. For Modern Cinema and Documentary Film, I was able to order all the films I wanted to see. I read up on the films ahead of time, so that I could introduce them and then watch the films with the students and discuss them afterwards. This was my film education.

Some of the films I showed in class:

"Blow Up"
1966 mystery thriller starring David Hemming as a London fashion photographer who believes he has unwittingly captured a murder on film.

"16 in Webster Groves"
Attitudes of 16-year-olds towards their parents, education, marriage and their future in a wealthy suburb of St. Louis, Missouri.

"Groupies"
Rock star groupies

"Soldier Girls"
Basic training for women in the army

"Polyester"
Middle class satire – with "Odorama" Scratch and Sniff Cards

"Scum"
Borstal Prison for youth – to reform serious delinquents

"Taking Off"
A funny look at American life styles from the point-of-view of two generations

"Norman Jewison Filmmaker"
Behind the scenes as Jewison directs the feature film "Fiddler on the Roof"

"Hurt Penguins"
Devious methods to finance a band
"The Creature from the Black Lagoon"

"War of the Worlds" (The original 1952 version)

"Smile"
High School Beauty Pageant

"Freaks"
1932

"The Adventures of Priscilla, Queen of the Desert"
Three Australian drag queens & their misadventures

I also invited visiting filmmakers presenting their films at the Montreal World Film Festival to come to John Abbott to show their productions.

Eventually, I was able to buy a car and drive myself to school. One time, I invited The Great Antonio to talk about being in a film I made: "A 20th Century Chocolate Cake."

Photo
A 20TH CENTURY CHOCOLATE CAKE
the absurdities of the 20th century
photo
Lois and The Great Antonio

He was labeled "The Strongest Man in the World." The Great Antonio weighed 510 pounds and was known for pulling four busses tied together with a chain down St. Catherine Street in Montreal. I picked him up and stuffed him into my car to take him to John Abbott. All went well, but the next day, when I went out to get into my car, I was freaked out to discover I had a flat tire. Note to self: You can't put 510 pounds in one spot in a car.

I enjoyed teaching and met great students when I taught at John Abbott.

Then I received another offer: to teach in the evening at Concordia University, while I was still teaching at John Abbott during the day. When I first came to Montreal, I had started making films, and I applied to take a 2nd year course at Sir George Williams (later called Concordia University). I was refused, but a year later, I was hired to teach Film Production at Sir George. Then another class was added, to teach 2nd year production, when a teacher became ill, the class they originally refused to let me take a year earlier!

Comments can be sent to:
lois@siegelproductions.ca